By Candace J. Semien, Jozef Syndicate reporter, The Drum Newspaper
@JozefSyndicate
BATON ROUGE (The Drum/NNPA)—For more than three decades, Sadie Roberts-Joseph was an exceptional force of civic and cultural life in Baton Rouge. Often called an activist, matriarch, and a 'tireless advocate of peace,' the 75-year-old founder of the city's African-American history museum was found dead in the trunk of a car on Friday, July 12, about 3 miles from her home. Police did not explain what led them to the car where they found her body.
Investigators believe she was suffocated before her body was found. Within days, Baton Rouge Police arrested and charged a male tenant from one of Roberts-Joseph's rent houses with her murder. He was allegedly $1,200 behind in his rent.
"You stole light," said her son Jason Roberts. "You stole a warm, loving, giving and caring woman and it wasn't just for her family. She cared for the city. She cared for you. Her life should not have ended that way. She did not deserve that, but she would want forgiveness for you."
In 2001, Roberts-Joseph founded the Odell S. Williams Now & Then African American Museum, which features exhibits of African art and tells the stories of minority inventors. It also includes displays of historical artifacts from the civil rights era, including a 1963 bus used during the Baton Rouge boycotts.
Leading up to this year's Juneteenth Celebration, she'd begun rebranding the museum as the Baton Rouge African American History Museum, which some recognized as an astute move to market it as the city's museum and to connect it to other Black museums in Southeast Louisiana.
"She was one of the standout matriarchs of Baton Rouge," said Mayor-President Sharon Weston Broome, who knew and worked with Roberts-Joseph for 30 years. "We will make her legacy a priority because of what she gave to so many here."
Roberts-Joseph was also the founder of the nonprofit organization Community Against Drugs and Violence, and she organized the state's recognition of Juneteenth in Baton Rouge.
Roberts-Joseph grew up in Woodville, Mississippi. Her family later moved to Baton Rouge, where she studied education and speech pathology. She consistently called for unity and togetherness, often explaining how the city and nation needed to heal from the legacy of slavery. "What my mother wanted in life came to fruition — ironically — in death," said Angela R. Machen, Ph.D., "and that was inclusiveness, togetherness and diversity."
Machen challenged the community to keep her mother's legacy by living "a better life. Give a little more effort to make the whole better." She said her mother was committed to community service and excellence, "Whatever you believe in, work hard in it. Give your dead-level best."
The family has created The Sadie Roberts-Joseph Memorial Fund at Hancock Whitney Bank and is hoping to raise funds that will go toward museum operations.
The Southern University System Board of Supervisors presented a resolution to the family. The resolution outlined the commitment of Roberts Joseph to both her family and the city of Baton Rouge. These commitments included founding the museum. She was an alumna of Southern University.
"Our love for Sadie Roberts-Joseph will continue. We will demonstrate it in very tangible ways," said Broome. For starts, the Mayor's Youth Workforce Experience participants, led by The Walls Project and Build Baton Rouge, will paint a mural of the revered activist at 2065 Plank Road — the corner of Plank Road and Pawnee Street, in North Baton Rouge.
The community shares their memories and tributes:
Gov. John bel Edwards: I am heartbroken and sickened by the disturbing death of Sadie Roberts-Joseph. @FirstLadyOfLA and I are praying for her family and the members of the Baton Rouge community who, like us, are struggling to understand this senseless act of violence.
Many knew Sadie as the founder of Baton Rouge's African-American History Museum and for her annual Juneteenth celebrations, but she was equally known for her kindness, vibrant spirit, and passion for promoting peace. Sadie was a storyteller, and I believe we have the responsibility of keeping those stories alive and working to, as she once said, "build a better state and a better nation."
Mayor Sharon Weston Broome: In the midst of managing a major weather event in our parish, I was hit with some devastating news — the murder of a dear friend and a mother of the community, Sadie Roberts Joseph. I've deliberately waited to comment because of the level of love and respect I had for Sadie and because it was such shocking news.
She loved this city and its people. Her commitment to the cultural and educational fabric of our community is beyond description. The development of The Odell S. Williams African American Museum is a testament of her visionary and pioneering leadership. In the days to come, I look forward to offering a more comprehensive tribute.
State Rep. C. Denise Marcelle: My heart is empty… as I learned last night that Ms. Sadie Roberts Joseph was found murdered! This woman was amazing and loved her history. She never bothered anyone, just wanted to expand her African American Museum downtown, where she continually hosted the Juneteenth Celebration yearly. I loved working with her and am saddened by her death.
Judge John Michael Guidry: My friend Sadie Roberts-Joseph often had me as her Speaker for her Juneteenth Celebrations in South Baton Rouge or her Veterans Observance at Port Hudson. We bonded over 25 years ago when, as a State Senator, I worked with the community group CADAV which she led in the Banks community.
Her life was one of sacrificial service to others. She gave herself away so that God could use her. She reminded us of our history and has earned her place in the history of our community. Her death was tragic, but her life was a treasure. I choose to focus my thoughts not on how she died, but on how she lived. My condolences and prayers are with her family.
State Rep. Patricia Haynes Smith: As I sit remembering my dear dear friend Sadie I know the tears I've shed do no more than help relieve my emotions. A lot of people knew or knew of Sadie but really didn't know her. For those of us who did, who grew up in her time we knew a bit more. Sadie's death isn't an opportunity for news sound bites without knowing her family or involving her family.
I am disappointed. This is indeed a time for ALL who knew her and really want her legacy to be enshrined AND the perpetrators brought to justice to come together in unity. NO MAN IS AN ISLAND and we should be embracing her family and referring news outlets to them.
Some may not like this post, but I respect her family and for as much time as she and I spent together dealing with the museum issues I could never politicize her death and there are others who feel as I do. I LOVED SADIE FOR WHO SHE WAS AND ADMIRED ALL SHE WAS TRYING TO DO FOR OUR COMMUNITY. UNIFY FOR THE LOVE OF Sadie L. Roberts-Joseph!
Donna Collins Lewis: My heart is aching. I have known Ms. Sadie for over 30 years. A wonderful, sweet and quiet soul. Soft-spoken with a passion for the community and African American History and Art. I pray for a quick resolution in bringing the person responsible to justice. I pray God's strength and peace for her family and the many lives who are saddened by her death.
May her legacy and work continue to live through the African American Museum and the many efforts she championed in the community. She leaves her footprint on the entire parish and far beyond.
NAACP Baton Rouge Branch: We lost a Cultural Legend Yesterday! #RIP Sadie Roberts Joseph. From reviving Juneteenth, to the Culture preserved at Her Museum, she was a trendsetter and icon in this City.
The King Center: We mourn. Sadie Roberts-Joseph was the founder and curator of the Baton Rouge African-American Museum, which she started in 2001. She was a tireless advocate of peace.
Baton Rouge Police Department: The Baton Rouge Police Department joins the community in mourning the loss of Ms. Sadie Roberts-Joseph. Ms. Sadie was a tireless advocate of peace in the community. We had opportunities to work with her on so many levels. From assisting with her bicycle give away at the African American Museum to working with the organization she started called CADAV (Community Against Drugs and Violence). Ms. Sadie is a treasure to our community, she will be missed by BRPD and her loss will be felt in the community she served.
Broderick Bagert: Shocked & saddened by the death of Ms. Sadie L. Roberts-Joseph. She founded the Now & Then Museum of African American History in Baton Rouge on a shoestring as part of her life-long project to teach Black history & civil rights. She was part of Together Baton Rouge from its earliest days. Ms. Sadie was a calm presence. And a fierce presence in every fiber of her being. May she rest in peace. And may the rest of us live up to her legacy, STARTING by supporting her vision for the Then & Now Museum.
Paula Johnson-Hutchinson: On this day, Ms. Sadie told me that writing books of our lives and culture ensures the sustainability of us and that we wouldn't be forgotten. She also said that sharing knowledge and being true teachers of our children will provide a pathway that will long outlive us.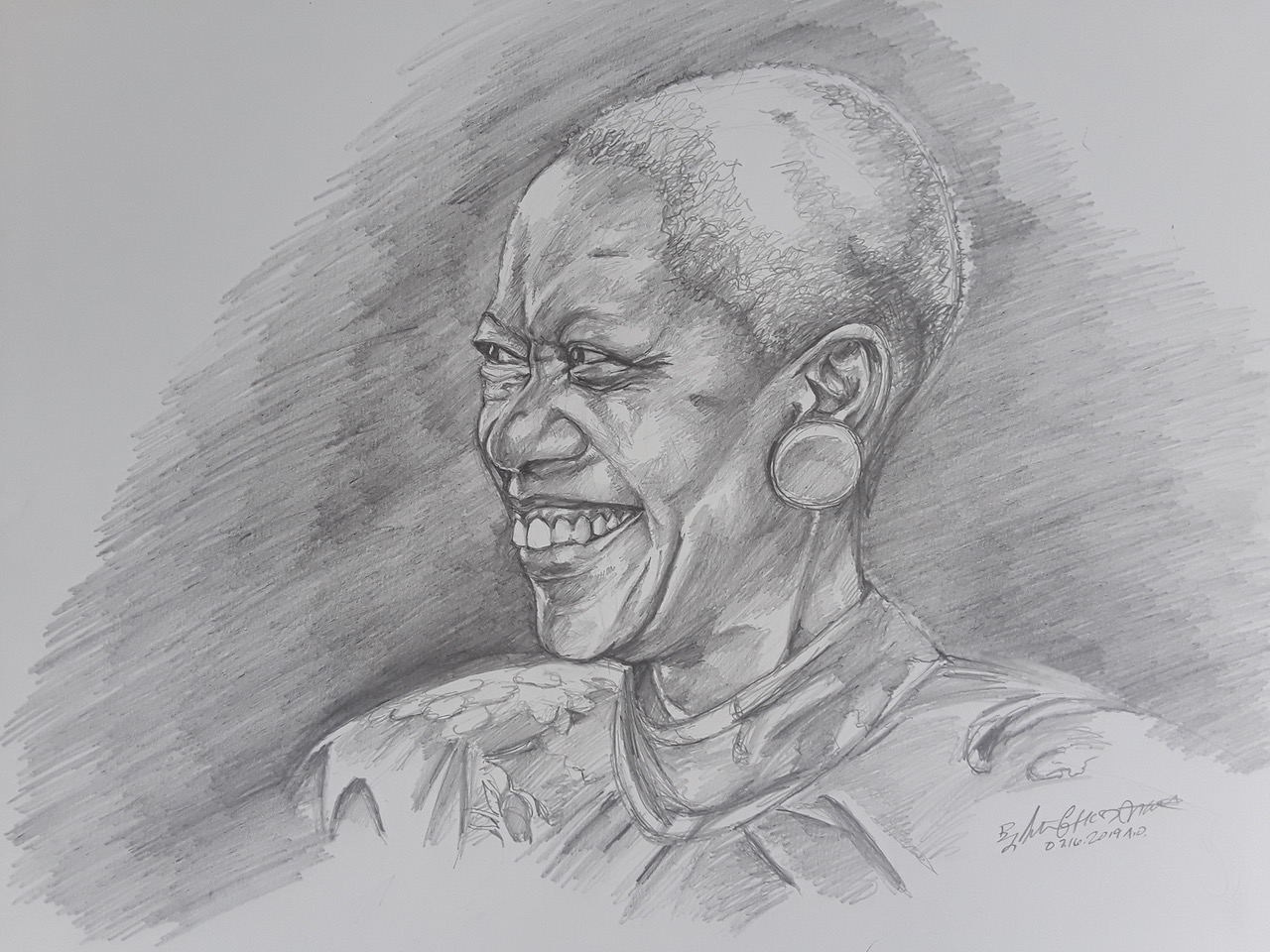 LSU Office of Diversity: Ms. Sadie Roberts-Joseph founded the Baton Rouge African-American Museum which tells the stories of African-Americans in Louisiana throughout history from the cotton grown in the museum's garden to artifacts like a 1953 bus from the year of the city's public bus boycott protesting racial segregation. Ms. Roberts-Joseph gave away bicycles at the museum and started a community organization to fight drugs and violence. She was known as a quiet leader and tireless advocate of peace in the community. Our LSU family mourns her tragic loss.
Res-Brother Stanley: We have come over a way that with tears has been watered.
We have come, treading our path through the blood of the slaughtered,
Out from the gloomy past,
Till now we stand at last
Where the white gleam of our bright star is cast.
David Modeste: Much respect to Sister Sadie for her tireless efforts to uplift the community in every way she knew how. We especially appreciate her active contribution and participation in the Baton Rouge Kwanzaa Celebrations sponsored by Afrocentric Focus Group of Baton Rouge.
Walter Geno McLaughlin: We've all posted about it and reacted to the news locally. And now we see the lens of national news outlets focused on the death of Miss Sadie. Fitting, yet unexpected.
It's strange how in death we seek to honor those who have done so much to uplift our community on a daily basis. But this video shows how she lived; with a smile on her face, a quiet force of nature, motivated by the need to narrate & curate our own stories.
One of the last times I saw Miss Sadie, she was hopeful that with all the renewed energy towards investment in underserved neighborhoods, her little museum would not be forgotten and would receive the resources to make it sustainable.
This woman did so much with so little. And like many others who do this work, probably never knew the full weight of her impact. It is why it's important to clap for people while they are here and give them the fuel to keep moving forward. I'm left to wonder who would do such a thing to someone we all loved, and at this tender age?
There is speculation beyond the normal motives, and we must ask tough questions. But as we all prepared for the coming storm, I believe she was likely still helping people, not fully aware of the dangers, whatever they were. What I do know is that her funeral will be full of dashiki wearing brothers and sisters emulating the look she was synonymous for. Rest in Power Queen. We will take it from here.
Niles B. Haymer: This morning I visited the African American Museum that was so loved by her and I could feel her spirit and presence throughout along with her love of displaying African American History in Baton Rouge.
I got a chance to speak with Ms. Sadie this past February at a Black History Program sponsored by Councilwoman Erika Green where I promised Ms. Sadie that my kids would soon visit her museum for a photo op with her. My oldest son even wondered loudly why I've never taken him to the museum in front of Ms. Sadie. Of course, I was embarrassed and gave him that look of "I'll deal with you later."
Unbeknownst to my son, he was right, many families of all races should have supported this historic museum and still have time to do so. Sadly, that day never came for my kids, Ms. Sadie and that well-anticipated photo op.
Violent crime in Baton Rouge is an unspeakable epidemic that's stealing the soul of this City. I know that the candlelight vigil this evening will be well-attended, and I wanted to just take in her life's work without disruption.
Rep. C. Denise Marcelle has assisted the family in setting up the Sadie Roberts Joseph Memorial Fund at Hancock Whitney Bank. This is our chance to give to a worthy cause by keeping this museum open and well funded. #JusticeforSadie
Councilwoman Erika Green: Today, I speak Ms. Sadie Roberts-Joseph's name! Though her life was taken by a heartless person in this city yesterday, I am comforted in remembering the community and the African-American history she carried in her soul. She loved and told the story of our people.
Shenena Armstrong Merchant: Aunty Sadie was a light to the Armstrong family, she taught me through her actions how to smile through it. So, in spite of my tears, I'm smiling because her legacy lives on; bigger, stronger, and more loving.
Jeremy L. Blunt: My heart mourns today at the loss of such a pillar of our community. I met Mrs. Sadie L. Roberts-Joseph as a teenager and can still remember our conversations where she encouraged me to keep striving for others. She told me that one day, I too would be one of those on her wall. We have to not just seek justice for her but seek betterment in our community by how we treat one another. Love is a universal language that does not discriminate. Remember what she lived for and carry that message on.
Lloyd Benson II: Thank you, Queen, for always inspiring and encouraging us to learn, respect, and appreciate our heritage.
Tiffany Littlejohn: My Aunt Sadie L. Roberts-Joseph always wanted to be famous. Her story is breaking twitter, being shared by CNN, CBS, ABC, ESSENCE magazine, BET, Instagram, US News, New York Times, Perez Hilton, New York Daily News, and the list goes on and on… TAKE YOUR PLACE QUEEN, TAKE YOUR PLACE.
LaNeir Roberts: Aunt Sadie L. Roberts-Joseph was beautiful, smart, truly a phenomenal woman, and loved the Lord. I will never forget our Christmas light adventure. Never saw the Christmas lights but we managed to find the railroad tracks (lol).
When we asked to listen to the radio Aunt Sadie turns it to the politics station; and we expressed to her that we wanted to listen to rap music… she started banging on the steering wheel lol. Aunt Sadie was definitely a character, but she was also an educator and loved by so many.
I still can't believe she's gone. Please please please continue to pray for my family as we support each other through this difficult time. Rest in paradise Auntie, until we meet again.
Quentin Anthony Anderson Sr.: So, it was great to see everyone at Ms. Sadie's vigil last night. But many of y'all admitted that it was the first time you had ever stepped foot on the campus of that museum. That's fine, a lot of people hadn't, and it speaks volumes to how big of an impact Ms. Sadie left on Baton Rouge that so many people were touched by her and hadn't even see her in her purest element as a historian and curator. But that museum is our history, Black Baton Rouge. And it's her legacy.
If you were willing to come out in the heat and endure an entire church service and 4 closing prayers for Ms. Sadie yesterday, the least you can do is support the museum-going forward.
Visit the museum. Take your kids. Volunteer (Ms. Sadie really wanted to maintain those column murals and the maps on the ground, hint hint). Donate monthly to keep the museum open.
Sharon Weston Broome, designate the museum as a local historical landmark and protect it from greedy developers. We all have a part we can play as a community. As my friend Myra Richardson says, make this a movement, not a moment. Make this important to you beyond just today, beyond it trending on your favorite timeline. If you truly care about Ms. Sadie and her legacy, let's protect and preserve it by supporting her crown jewel.
Myra Richardson: Last summer, Byron Washington and Ms. Sadie asked me work with the museum because she said she needed some "youthful energy". I'm eternally grateful for both of those relationships.
However, one of the things that struck me was when she told me the Museum was an extension of her. Every piece collected in that museum passed through her delicate fingers, every tour was different as she would recount how she got a different artifact. I thought I was an intense person but spend a few days a week on a hot bus with that women and she'll learn you a thing or two.
She made me read endlessly but she talked to me more about how important oral history is and passing down stories. She was a walking book and just wanted to share the museum with the world. She dreamed of renovating the building and connecting it to the building behind it, even thought of renaming it once.
The last piece of literature she had me read was about Oscar Dunn. In 1868, Dunn became the first elected Black lieutenant governor of a U.S. state. His sentiments were written during reconstruction hailing from the great State of Louisiana, but Ms. Sadie wanted me to draw parallels that he was essentially asking for the same thing 151 years ago that we're asking for today.
She viewed knowledge of history as an equalizer, she wanted me and youth across Louisiana to have access to that museum purely because knowledge is more than power … it's a labor of love.
That museum is Ms. Sadie, that museum is more than a legacy … it's a living breathing organism birthed from her dreams, travels, relationships and love for all of us. That museum is my chief priority and should be yours as well.
Byron Washington: Many people will rightly so build memorials and vigils. I think the best way to Honor Sadie is to honor her legacy. Honor what she put her heart and soul in. Donate, find funding sources, and promote the museum. Make it so the doors will never close and we will never lose its memory.
Learn your local history and embrace your local culture. It is unique and should be celebrated from the mountain tops. So instead of buying a bunch of flowers, although you certainly are within you right and in many cases should let's put that money into the facility. Let's put our energy into the grants. Let's put our focus into promotion.
Stephanie Anthony: She was a fellow worker in the vineyard, a kind, sweet lady I can't wrap my mind around what our city has become capable of these days. What a great loss. Prayers for her family.
Johnny Anderson: The recent murder of my dear and sweet 75-year-old friend Sadie Roberts-Joseph has greatly disturbed me, personally, and Baton Rouge, collectively!! I have so many questions but, I know my friend, Baton Rouge Chief of Police Murphy Paul will do his all to find and appropriately charge the person or persons who committed such a horrific crime!! What is on the mind(s) of anybody to kill a 75-year-old Christian, mother, grandmother, humanitarian, community Activist, human and civil rights activist, African-American historian and protector of the culture, lover of arts, fighter for the people's cause…! Not only kill her but, stuff her in the trunk of a car!!?
So many times, when I was in government, at the state or federal level, Sadie had no problem making her way there to my office and express her opinion on issues or to advocate for help for the least! I never knew her children, grandchildren or relatives because she never came asking for help for them, it was always about helping others!
One of my more recent memories of her was she coming to my office to express concerns with the Louisiana Department of Transportation and Development (DOTD) where she had taken upstate property for her Museum expansion, painting African-American heroes on State post and was NOT moving it! Then on another occasion to have me as her guest speaker at the Museum!
I was so hot that day, looks like it was 90+ degrees but, she thought that my removing my jacket, on the OUTSIDE, where I was speaking, would lower the dignity of her activity/event…and I was crazy enough to listen to her and kept my coat though they got a shorter version of my speech!!
She was always soft-spoken but, very forcefull about her position, that was not easily changed! Sadie had a small voice but, strong convictions about her causes! She hardly shouted at anyone but, she never stopped coming to the "gate" to help others!
She often reminded me of the woman in the Bible that came night and day to "bother" the one in authority until she ultimately got what she wanted!! Sounds familiar LA DOTD Secretary Shawn Wilson and Attorney Joshua G. Hollins?!
Sadie Roberts-Joseph was persistent! She knew how to ask you for financial support for the Annual Juneteenth Celebration without ever asking you for a penny, which by the way, should now be appropriately entitled the "Sadie Roberts-Joseph Juneteenth Celebration!"
I want her murderer(s) to be brought to justice!! Did they even know what this woman embodied…who she was…what she meant…who she fought for…her commitment…her love…did they know?!!! Rest well my friend…you wrought well while here!!
By Dr. Sybil C. Mitchell, Special to the New Tri-State Defender
Dr. Andrea Lewis Miller, who was once deemed the right candidate at the right moment "for such a time as this" at LeMoyne-Owen College, will not get a second term as president.
The first woman appointed president of the then 153-year-old college, the city's only historically black college/university (HBCU), Miller, a graduate of the college, learned in mid-June that the LeMoyne-Owen College Board of Trustees would not pick up her contract this September.
Amid considerable optimism, Miller became the 12th president on Sept. 1, 2015. She brought with her 20 years of experience in higher learning, exiting Baton Rouge Community College for the return to Memphis. She was the second LOC graduate to serve as president.
A statement released on Tuesday confirmed the rumblings that Dr. Miller was out. "(The) Board of Trustees is grateful for Dr. Miller's service and commitment to LeMoyne-Owen for the past four years."
Neither Miller nor Board of Trustee's Chair Dr. Christopher Davis had returned calls by TSD press time. Davis did indicate that an interim would be named; no timetable was given.
Miller set an ambitious agenda for LeMoyne-Owen College. Initially established as a "teachers' college" like many other HBCUs, the liberal arts institution was put on an overhaul course that included the goal of offering students more relevant courses of study.
Steps in the new direction garnered both supporters and adversaries of her proposed changes. During LOC's 2016 commencement exercises, shipping giant FedEx gave the college $1 million for technology upgrades – and another $100,000 as a scholarship endowment.
Meanwhile, enrollment did not change significantly for the better. And in 2017, a vote of "no confidence by some faculty members added to Miller's challenges.
Along the way came charges of nepotism and ineffective leadership by some student government leaders, who sought Miller's removal.
In response, Miller assessed the charges by students as "a few, just a few who do not want to see me succeed."
Alumni, who met with student leaders, joined the call to remove Miller. Several meetings over the past few months indicated that members of the Board of Trustees were split on whether to move forward with her.
The Faculty Senate at LeMoyne-Owen College issued a second vote of no confidence after accusing Miller of plagiarizing world-renowned pastor Joel Osteen's sermon – entitled "I'm Still Standing – during her Oct. 2018 convocation address to incoming freshmen.
At the time, Michael Robinson, a professor and president of the college's faculty organization, told reporters, "The president is the highest academic and administrative officer…and sets the standard for ethical and moral conduct at the college as well…These are some serious allegations, because it impacts the credibility of the college because the president is the face of the organization…and that's a serious infraction."
In a written statement released after the plagiarism assertion, Miller defended her use of Osteen's remarks, also implying that it was an "oversight" not to credit him. The matter, she said, did not "constitute a serious breach of academic standards that would rise to a level of review for faculty or students."
Miller also has defended her tenure as president, saying that LeMoyne-Owen must evolve its curriculum to properly serve students in a changing world and job market. She has said criticism of her leadership stems mostly from resistance to what she believes is necessary change.
"It is no secret that organizational changes, the pace of change and our new direction at LeMoyne-Owen College has caused consternation among some faculty members," Miller said in a prepared statement issued after the plagiarism assertion.
"Still, I am committed to ensuring this 156-year-old institution achieves new heights in outcomes for the students and families we serve."
By Erica R. Williams, Special to The New Tri-State Defender
Tennessee State Rep. Antonio Parkinson (D-Memphis) recalled the grim day that he witnessed violence outside of his apartment as a 4-year-old growing up in Los Angeles.
"I remember seeing a man lying outside on the steps, and he was bleeding out," Parkinson recounted. "My mother told us to walk around him and don't touch him. I remember just looking back in shock."
It's exposure to violence like this incident that Parkinson attributed to his poor, and sometimes violent decision making as a youth. It's also one of the reasons he spearheaded a mental health initiative for those affected by the recent shooting death of Brandon Webber, a father of two. The 20-year-old was killed by U.S. Marshals June 12 while they were trying to arrest him.
To kick off the initiative, Parkinson enlisted the assistance of local pastors in Frayser, the area where Webber's shooting death occurred. It's also part of the district Parkinson serves as state representative. Through the free counseling sessions, Parkinson said he hopes to address the symptoms of post-traumatic stress disorder (PTSD) and adverse childhood experiences (ACEs) related to the aftermath of Webber's death and other rampant acts of violence that children and families have witnessed within their homes and communities.
A rotation of local counselors is dedicating two hours of their time to help with the initiative that kicked off June 16. Parkinson said it's something that's needed in communities plagued with violence.
"Those seeds get deposited into the psyche of kids. The first time it's shocking, and over time it gets less and less shocking. And after repeatedly seeing incidents of violence in their communities and households, it becomes their norm," he said "Eventually, those seeds begin to sprout and bear fruit. So, my intent in coming up with this strategy is to kill those seeds so that the kids and families get the help that they need."
Parkinson's analysis is backed up by research from myriad health and education advocacy organizations. According to one study conducted by the Violence Policy Center, exposure to community violence appears to represent a unique form of trauma that is particularly associated with the development of PTSD symptoms, especially among children and adolescents. The study also concludes that repeated trauma can lead to anger, despair, and severe psychic numbing, resulting in major changes in personality and behavior.
Parkinson linked the aftermath of Webber's death to this type of trauma. After the father of two was killed, protests erupted in Frayser. Dozens of Memphis police officers were injured during the unrest.
"I saw people who were just angry and scared. Many of them just didn't know what to do with those emotions," Parkinson stated. "It's not normal to live in a space where violence is all around you.
Pastor Ricky Floyd of Pursuit of God Transformation Center joined Parkinson in the initiative, allowing his church to serve as one of the participating locations where residents could come to seek counseling. According to Floyd, it only made sense to join forces with Parkinson, because it's something his church already does in collaboration with Agape.
"The good thing about a crisis is that it gives an opportunity to make people aware of the systems we already have in place," Floyd mentioned. His church also offers a grief class each Wednesday night.
Despite the need, both Parkinson and Floyd said that it's not easy to get people to participate, mainly because of the stigma attached to counseling within many black communities.
"There is still a stigma on mental health counseling in our communities, so there are barriers for us to even seek the counseling that's readily available because of this stigma," Parkinson said.
Floyd agreed, citing a familiar adage.
"You can take a horse to water, but can't make him drink," he said before adding, "I've been praying to God to give me an anointing so that I can make people thirsty."
Although the mental health initiative wrapped up June 21, Parkinson hopes resources and participation will allow an extension.
"Our goal is to continue on with this counseling in partnership with churches in our community. And I hope statewide we will adopt this strategy to make mental health counseling as assessable in as many communities as possible.
By Askia Muhammad, Senior Editor, The Final Call
@askiaphotojourn
WASHINGTON—President Donald J. Trump seems to want war with Iran. Secretary of State Mike Pompeo is beating the drum for war with Iran. National Security Adviser John Bolton is itching for war with Iran. Together they are orchestrating an all-too-familiar scenario to justify the use of U.S. military force against the Islamic Republic.
In 1846 U.S. forces falsely claimed they were attacked by Mexican forces inside U.S. territory. In retaliation the U.S. launched the Mexican-American War, seizing land from New Mexico to California, to Colorado, even to Utah. Have we forgotten the suspicious sinking of the USS Maine, the Navy ship which went down in the Havana Harbor in 1898, dragging the U.S. into the Spanish-American War?
In 1962, a Pentagon plan called "Operation Northwoods" was hatched for the Central Intelligence Agency (CIA) to commit acts of terrorism against U.S. civilians to be blamed on Cuba, in order to justify an invasion of that country. In 1964 the White House committed "material misrepresentations" of the truth of what was known as the "Gulf of Tonkin Incident" in order to goad Congress into authorizing war with Vietnam. And of course, the convincing dramatizations of "Yellow Cake Uranium" and non-existent "weapons of mass destruction" were used to justify the U.S. invasion of Iraq in 2003.
The Trump administration is now stoking fear of a potential conflict with Iran. The president withdrew from the landmark Iran nuclear deal—the Joint Comprehensive Plan of Action—in May 2018. More recently, National Security Adviser John Bolton asked the Pentagon to provide the White House with military options to strike Iran.
In the latest incident, the Secretary of State said Iran was behind the attacks on two oil tankers in the Gulf of Oman June 13, implicating the nation in the second set of attacks on tankers in the region in two months. U.S. Central Command even released a video it says shows Iran removing an unexploded mine from one of the tankers it's accused of attacking.
But the Japanese owner of the ship that was damaged denied that it was struck by mines as the U.S. claims, insisting instead that it was hit by "flying objects." Yutaka Katada, president of the Kokuka Sangyo shipping firm that owns the Kokuka Courageous tanker, told reporters in Tokyo June 14: "The crew are saying it was hit with a flying object. They say something came flying toward them, then there was an explosion, then there was a hole in the vessel. Then some crew witnessed a second shot."
Iranian Foreign Minister Mohammad Javad Zarif said the United States had "immediately jumped to make allegations against Iran—(without) a shred of factual or circumstantial evidence," and he accused the Trump White House of "economic terrorism" and "sabotage diplomacy," according to published reports.
"So it's apparent that the United States is trying to execute a false flag operation and to throw dust in the eyes of international communities and make the international community feel that the Iranians are the aggressors when in fact it's Washington that's the aggressor," Dr. Gerald Horne, professor of history and African American studies at the University of Houston said in an interview.
The U.S. lust for war is because U.S. interests and allies are suffering, while Iran is making gains in the region, according to Dr. Horne. The U.S. invasion of Iraq has made that country even more dependent on Iran for everything from electricity to security. And U.S. ally Saudi Arabia is fighting a costly and bloody war against rebels in Yemen who enjoy Iranian support.
"Interestingly enough, because of Mr. Trump pulling out of the (Iranian) nuclear deal, the EU 3—Germany, Britain, and France—are trying to set up a special purpose vehicle to circumvent U.S. sanctions," Dr. Horne said, "which will then be a threat to the dollar, which is now under siege not only because of the EU 3 but also because of Russia (and) China preparing to conduct trade without the dollar."
A war, Mr. Trump may be estimating, could "rescue" him politically, and inject more money into the Pentagon. The U.S. "war strategy" was revealed by Reps. Elissa Slotkin (D-Mich.) and Tulsi Gabbard (D-Hawaii) after a House Armed Services Committee meeting and confirmed to The Intercept by Rep. Gabbard. "We were all in that meeting with Pompeo where those statements were made," Ms. Gabbard said.
The Trump administration is prepared to wage the war against Iran without congressional authorization, based on the notion that the "Authorization for the Use of Military Force" approved by Congress in 2001 after 9/11 can be applied to Iran, through that country's purported links to Al Qaeda.
Democratic House members and senators, and a host of presidential candidates condemned the president's saber rattling. "If the administration wants to go to war against Iran, then the Constitution requires them to come to Congress to ask for an authorization for the use of military force," Sen. Elizabeth Warren (D-Mass.), a presidential candidate told reporters.
"This is Constitutional Law 101, that it is Congress, not the president, that declares war," Sen. Warren, a former law professor, continued. "We would have to have a debate on the floor of the Senate. And if the administration doesn't believe that they can withstand a debate, then they shouldn't be aiming themselves toward war."
President Trump told an interviewer on June 13 that "Iran did do it." In response, presidential candidate and Sen. Bernie Sanders (I-Vt.) told reporters: "Attacks on oil tankers in the Gulf of Oman are unacceptable and must be fully investigated. But this incident must not be used as a pretext for a war with Iran, a war which would be an unmitigated disaster for the United States, Iran, the region and the world.
"The time is now for the United States to exert international leadership and bring the countries in the region together to forge a diplomatic solution to the growing tensions. I would also remind President Trump that there is no congressional authorization for a war with Iran. A unilateral U.S. attack on Iran would be illegal and unconstitutional."
Disclaimer: The views and opinions expressed in this article do not necessarily reflect the official policy or position of BlackPressUSA.com or the National Newspaper Publishers Association.
By Nsenga K. Burton, Nsenga K. Burton, Ph.D., NNPA Newswire Entertainment Editor
Entertainment juggernaut Will Packer, the man behind hit films like Girls Trip, Straight Outta Compton, Little, Stomp the Yard, Ride Along, "Ready to Love," and "The Atlanta Child Murders" has brought "Ambitions," a big drama starring Robin Givens, Essence Atkins, Kendrick Cross, Brian Bosworth and Brian White, to the small screen.
Robin Givens plays the role of Stephanie Lancaster, a sophisticated lawyer hailing from a long line of distinguished attorneys. Stephanie desperately wants to be in charge of her family's prestigious law firm and will stop at nothing to get it. Brian White is 'Evan Lancaster,' the Mayor of Atlanta, who is married to attorney Stephanie Carlisle (Robin Givens). Evan's dream is to be the first African-American governor of Georgia and there's no line he won't cross to get there.
Kendrick Cross stars as 'Titus Hughes,' a passionate attorney and dedicated husband to Amara (Essence Atkins). Titus has accepted the challenge of being in-house counsel for a big pharma company run by Hunter Purifoy (Brian Bosworth) to fight a class action suit brought by the powerful Carlisle family.
Brely Evans stars as 'Rondell Lancaster,' the sister of Atlanta Mayor Evan Lancaster and manager of the Thelma's Place restaurant. As the new face of an anti-gentrification campaign, she never thought she'd become a crusader for the people, but it's a badge she wears with pride – and nobody is removing it.
Erica Page plays the role of 'Bella (Tru) Trujillo,' Atlanta's newest and trendiest fashion designer. She's the exclusive dress designer for First Lady Stephanie Lancaster, but has set her sights much higher.
Essence Atkins plays the role of 'Amara Hughes,' a lawyer in the U.S. Attorney's Office who has newly arrived in Atlanta with her husband, Titus (Kendrick Cross). Originally from Texas, she is quickly gaining attention from the U.S. Attorney's Office as a diligent investigator and prosecutor.
In addition, Brian Bosworth ("What Men Want"), Matt Cedeño ("Power"), Deena Dill ("Conrad & Michelle"), Gino Anthony Pesi ("Shades of Blue") and Kayla Smith ("Star") will appear in recurring roles.
Created by executive producer/writer Jamey Giddens "AMBITIONS" is produced for OWN by Will Packer Media in association with Lionsgate and Lionsgate-owned distributor Debmar-Mercury.
Will Packer is executive producer. Kevin Arkadie is executive producer/showrunner. Creator/writer Jamey Giddens and Will Packer Media's Sheila Ducksworth also serve as executive producers.
Benny Boom directed and served as a producer of the pilot episode.
Connect with the series on social media via: @AmbitionsOWN (Instagram & Twitter)
Check local listings for channel information.
This post was curated by Nsenga K Burton, Ph.D., founder & editor-in-chief of The Burton Wire. An expert in intersectionality and media industries, Dr. Burton is also a professor of film and television at Emory University and co-editor of the book, Black Women's Mental Health: Balancing Strength and Vulnerability. Follow her on Twitter @Ntellectual or @TheBurtonWire.
By Stacy M. Brown, NNPA Newswire Correspondent
@StacyBrownMedia
In June, Dr. Patrice A. Harris, a psychiatrist from Atlanta, was sworn-in as the 174th president of the American Medical Association (AMA). She is the first African-American woman to hold the position.
During her inauguration ceremony in Chicago, Dr. Harris said she plans to implement effective strategies to improve healthcare education and training, combat the crisis surrounding chronic diseases, and eliminate barriers to quality patient care.
She also promised to lead conversations on mental health and diversity in the medical field.
"We face big challenges in health care today, and the decisions we make now will move us forward in a future we help create," Dr. Harris said in a statement.
"We are no longer at a place where we can tolerate the disparities that plague communities of color, women, and the LGBTQ community. But we are not yet at a place where health equity is achieved in those communities," she said.
According to her biography on the AMA's website, Dr. Harris has long been a mentor, role model and an advocate.
She served on the AMA Board of Trustees since 2011, and as chair from 2016 to 2017.
Prior to that, Dr. Harris served in various leadership roles which included task forces on topics like health information technology, payment and delivery reform, and private contracting.
Dr. Harris also held leadership positions with the American Psychiatric Association, the Georgia Psychiatric Physicians Association, the Medical Association of Georgia, and The Big Cities Health Coalition, where she chaired this forum composed of leaders from America's largest metropolitan health departments.
Growing up in Bluefield, West Virginia, Dr. Harris dreamt of entering medicine at a time when few women of color were encouraged to become physicians, according to her bio.
She spent her formative years at West Virginia University, earning a BA in psychology, an MA in counseling psychology and ultimately, a medical degree in 1992.
It was during this time that her passion for helping children emerged, and she completed her psychiatry residency and fellowships in child and adolescent psychiatry and forensic psychiatry at the Emory University School of Medicine, according to her bio.
"The saying 'if you can see it, you can believe it' is true," Dr. Harris said during her swearing-in ceremony.
"And I hope to be tangible evidence for young girls and young boys and girls from communities of color that you can aspire to be a physician. Not only that, you can aspire to be a leader in organized medicine," she said.
By Stacy M. Brown, NNPA Newswire Correspondent
@StacyBrownMedia
Despite a centuries-old Supreme Court ruling that outlawed the practice, debtor's prison remains very much alive in America, experts told NNPA Newswire. Being poor is challenging enough, but some states, like Missouri, have continued to punish those of lesser means.
A federal class-action suit claims thousands of those living in Missouri were jailed because they couldn't pay off fines – essentially, a debtor's prison and conundrum for the poor.
Pro Publica reported that four years after the suit was filed, the plaintiffs are still waiting, and wondering if the deck is stacked against them.
The report details the plight of Tonya DeBerry, who, in January 2014, was driving through an unincorporated area of St. Louis County, Missouri, when a police officer pulled her over for having expired license plates.
"After discovering that DeBerry, 51, had several outstanding traffic tickets from three jurisdictions, the officer handcuffed her and took her to jail," according to Pro Publica.
"To be released, she was told, she would have to pay hundreds of dollars in fines she owed the county, according to her account in a federal lawsuit. However, even after her family came up with the money, DeBerry wasn't released from custody.
Because DeBerry still owed fines and fees to the cities in Ferguson and Jennings, she remained jailed and her attorney likened it to "being held for ransom."
"The crisis that is going on in Missouri is taking place all around the country. It is a rising issue amongst people who cannot afford to pay court fees and, or fines," said Attorney Dameka L. Davis of the Davis Legal Center in Hollywood, Fla.
"I believe the more appropriate action is to implement programs and services that are free or offer a person to do community service in lieu of paying fines or fees," Davis said.
"Our system is perpetuating a money-based system, which in turn systematically affects minorities and people of color," she said.
Matt C. Pinsker, an adjunct professor of Homeland Security and Criminal Justice in the L. Douglas Wilder School of Government and Public Affairs at Virginia Commonwealth University, said the problem runs deeper than in Missouri.
"The American people would be horrified if they knew of just how many laws still exist which send poor people to prison over their inability to pay fines, court costs, and related expenses," Pinsker said.
"It is a tragedy and absurdity that we will essentially have debtors' prisons here in the United States of America," he said.
In DeBerry's case, Pro Publica reported that after the Michael Brown killing, "the city slowly stopped jailing people for not being able to pay fines as the news media showed the victims were primarily black and the Justice Department made clear that what Ferguson had been doing was wrong."
Still, the lawsuit remains unresolved with the city seeking dismissal.
In 2018, the American Civil Liberties Union detailed more than 1,000 cases in 26 states in which judges, acting on the request of a collection company, issued warrants for people they claimed owed money for "ordinary debts, such as student loans, medical expenses, unpaid rent and utility bills."
The ACLU said it's a system that breeds coercion and abuse.
The report concluded that, "with little government oversight, debt collectors, backed by arrest warrants and wielding bounced check demand letters, can frighten people into paying money that may not even be owed."
Few tools are as coercive or as effective as the threat of incarceration, ACLU report authors said.
As an example, one 75-year-old woman subsisting on $800 monthly Social Security checks, went without her medications in order to pay the fees she believed were required to avoid jail time for bouncing a check.
And as one lawyer in Texas, who has sought arrests of student loan borrowers who are in arrears, said, "It's easier to settle when the debtor is under arrest," the report's authors found.
The people who are jailed or threatened with jail often are the most vulnerable Americans living paycheck to paycheck, one emergency away from financial catastrophe, the report said.
Many were struggling to recover after the loss of a job, mounting medical bills, the death of a family member, a divorce, or an illness.
"They included retirees or people with disabilities who are unable to work. Some were subsisting solely on Social Security, unemployment insurance, disability benefits, or veterans' benefits – income that is legally protected from outstanding debt judgments," the report's authors wrote.